The Highland Township Historical Society
Highland, Oakland County, Michigan
BACK TO THE BIOGRAPHIES MAIN PAGE
CLAY, WILLIAM J.
Portrait and Biographical Album of Oakland County, Michigan, Chapman Bros. (1891), pp. 652-656
WILLIAM J. CLAY. One of the most beautiful farms in Highland Township is represented by a view on another page, and is the Clay estate. The farm consists of one hundred and twenty acres on section 10, and was taken possession of by the present owner on the 20th of October, 1851. At that time nearly forty acres had been fenced in, on which two crops of wheat had been raised several years before. There was an unfinished log house on the place, which Mr. Clay made habitable by putting in floors and a shingle roof. This he occupied for his residence until the fall of 1883. The remainder of the estate was in its primitive condition, covered with woods and having no improvements whatever. By dint of industrious and well-directed efforts Mr. Clay has brought the entire tract under cultivation, and has made various improvements, including a residence that was put up at a cost of $2,000. The dwelling is of pleasing architectural design, is conveniently arranged and well furnished, and is altogether a pleasant and comfortable abode.
The grandfather of our subject, Christian Clay, was born in 1725, near Berlin, Germany, and entered the service of his Prince at the age of eighteen years, serving seven years. The principality in which he lived became subject to Prussia, and he entered the service of Frederick the Great, who was on the throne of that country. After serving five years he returned to his old home to find that the family was gone, no one knew whither. He then came to America, landing in New York sometime before the breaking out of the French War. After living in the city of New York for a time he went to Philadelphia on business, and while stopping at a tavern he became acquainted with a man by the name of Clay, who lived in Virginia and said he came from Germany. He bore the same name as one of the brothers of Christian Clay, while the names of their father, mother, brothers and sisters were also alike. They concluded therefore that they must be brothers, and made an agreement whereby Christian was to return to New York, dispose of his interests there and come to Virginia to his supposed brother.
However, when Christian Clay was almost ready to start to the Old Dominion he was one evening walking along the street en route to his boarding house when he was seized by a company of British soldiers and pressed into the service. The morning following his seizure the fleet sailed out of the harbor, carrying him with others. After serving for a time in the British navy he was put in the ranks and fought at the battle of Louisburg. With his regiment he was sent with Gen. Wolfe to capture the city of Quebec, scaling the heights of Abraham during the night and in the morning helping to fight the battle that defeated the French, deprived them of Gen. Montcalm, and gave the city to the British though at the cost of the death of Gen. Wolfe and many of his heroic followers.
Two days after that memorable event the Indians, who were in the surrounding woods firing upon the soldiers, shot Christian Clay, the wound penetrating the knee and disabling him for life. He was taken to a hospital and soon discharged, after serving in the British army and navy five years. When able he commenced to work, and hoarded sufficient money to take him back to New York. In that city he met a woman whose first name was Mary, and who had just come over from the Fatherland. He paid her passage, married her, and they removed to Essex County, N. J., and later to Sussex County, the same State, where they reared a large family, comprising two daughters and six [Begin Page 655] sons. They were members of the First Presbyterian Church in Sparta as early as 1780. Grandfather Clay departed this life in 1820, at the age of ninety-five years, while his wife survived him several years.
Of the children of Christian and Mary Clay the following is recorded: John passed his entire life in Sussex County, N. J., and his children were Abram, Noah, Maria and Sarah; William died in Ohio; Christopher, in Sangamon County, Ill., at the age of eighty-eight years; Thomas, near Cleveland, Ohio; James removed to Kentucky and there enlisted in the service of his country in 1812, fighting under Gen. Harrison at the battle of Tippecanoe, and in the battle of the Thames. Two days after the latter engagement he was taken ill and died in Canada.
The father of our subject, Henry Clay, was born in Hardyston, Sussex County, N. J., September 25, 1783, and was a soldier in the War of 1812. In his native State he was married to Catherine Rorick, who was born March 5, 1785, and shared his fortunes until 1845, when she closed her eyes in death. Her parents, Gosper and Elizabeth (Massaker) Rorick, lived in Sussex County, N. J., the father being a farmer. Of the children born to Henry Clay and his good wife we note the following: Almeda, born October 18, 1803, married Norris Wickham, and later became the wife of J. Owen, and died April 6, 1885, aged eighty-one years; William J., of this sketch, was the eldest son; Gosper R., born January 9, 1808, married, and died April 22, 1835, when twenty-seven years old; Christopher C., born February 20, 1811, married Margaret Havens, and resides in Sussex County, N. J.; Mahlon, born August 24, 1814, died August 20, 1819, when less than five years old; Lucretia, born September 28, 1817, died July 22, 1819; Elizabeth, born December 4, 1820, married Philo Wilber and resides in Tuscola County, Mich.; Alanson, born December 11, 1823, resides in Orange County, N. Y.; Hannah, born April 12, 1826, married Eliakim Bross and lives in Montague, N. Y.; Amzy, born October 17, 1828, married and now resides in Tuscola County, Mich.
In the spring of 1852 Henry Clay, with his daughter Elizabeth and his son Amzy, came to Michigan and settled in Fairgrove, Tuscola County, where he died July 6, 1871, aged eighty-seven years, nine months and eleven days. His wife died near Deckertown, N. J., September 26, 1845, aged sixty years. six months and twenty-one days. The father was a farmer during his entire life. Politically he was a Democrat, and religiously a Baptist.
The gentleman whose name introduces these paragraphs was born in Hardyston, Sussex County, N. J.. November 29, 1805, and remained in his native State until 1848. He then went to Orange County, N. Y., made his home in Port Jervis four years and then came to this county. He was married in his native State to Hannah Demorest, who died in this county in 1862. Their children are: Emily H., born February 22, 1829; Henry D., born August 24, 1830, married Elizabeth Rhodes, and died September 30, 1870; Marcus D. L.; Gilliam D., born December 10, 1833, died August 5, 1857; Cornelius; Mahlon B. S., born October 26, 1839, and died October 18, 1884. Mr. Clay has always been a stanch believer in Democratic principles. He is now in his old age enjoying the comforts to which years of industry and honorable conduct fairly entitle him, and the association with children and friends who surround him.
The wife of our subject was born April 22, 1801, in Warwick, Orange County, N. Y. Her father, David Demorest, was born in 1761 and died in 1825; her mother, Margaret Demorest, who was born in 1765, died in 1812. In an early day they removed from Orange County to Sussex. Of their children we note the following: Peter, born in 1790, died in 1825; Catherine, born in 1791, died in 1825; Mary who was born in 1793, married Paulus Ackerson, and died in 1850; Henry, born in 1802, died in 1836; Nicholas married and died many years ago; John married Eliza Coss; Samuel who married Betsey Crane, removed to Niagara County, N. Y.; James located in Tompkins County, N. Y.; Margaret married Peter Lantz; Cornelius was was united in marriage with Abigail Demorest; Gilliam, who married Catherine Sharp, removed with his family to Franklin County, Kan., in the fall of 1866, and died there in 1873, at the age of sixty-seven years.
Cornelius D. Clay, son of our subject, was born [Intervening Image On Pages 654-655]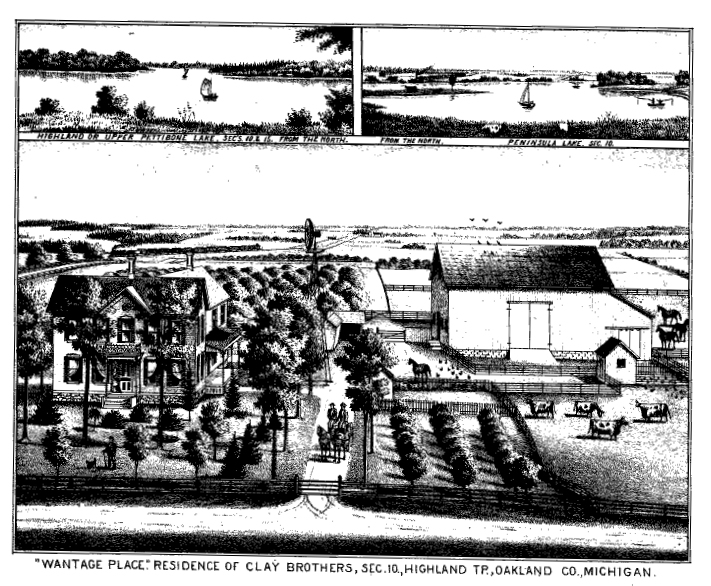 [Begin Page 656] in New Jersey, October 7, 1836, and accompanied his father to this State. He worked by the month for three years, then came to live with his father and has since been at home. He and his brother Marcus now own two hundred acres of land in Highland Township, besides having an interest in the homestead. Mr. Clay began his life-work without means and has made this property by well-directed and persevering efforts. In his political beliefs and practices he follows the custom of the family and is a Democrat.
Marcus D. L. Clay, second son of our subject, was born in Newton, Sussex County, N. J., February 14, 1832. He went from his native place to Port Jarvis, N. Y., where he lived about four years, working at the painter's trade three years. In October, 1851, he came to this county and permanently settled in the town of Highland, where he became a farmer. In 1865 he served seven months in Company F, Fifteenth Michigan Infantry; he was first sent to Hart's Island, New York Harbor, thence to Morehead City, N. C., later to Goldsboro, Alexandria, Washington, Louisville and Little Rock in turn. While at the last-named place he was taken sick and was sent to the hospital at Cairo, Ill., where he remained forty-two days. Thence he was sent to Harper Hospital, Detroit, and twenty-five days later came home in a feeble condition. He has never regained his former health.