The Highland Township Historical Society
Highland, Oakland County, Michigan
BACK TO THE BIOGRAPHIES MAIN PAGE
COLE, ROSSETTER GLEASON
B. F. Gue, Biographies And Portraits Of The Progressive Men Of Iowa, Conway & Shaw,Publishers, DesMoines (1899), Vol. I, pp 516-517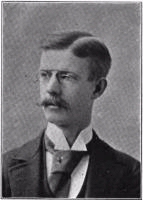 COLE, Rossetter Gleason,director of the musical department at Iowa college, Grinnell, and vice-president of the National Association of Music Teachers, is among the best teachers and composers of music in the west, and has spared no effort or expense to perfect himself in the art. His father, Henry Walcott Cole, also a musician, was born July 7, 1820, in Sherburne, Chenango county, N. Y. He was a son of Amos Cole (1759-1852), a farmer; a grandson of Thomas Cole (1735-1827); great grandson of John Cole, Jr., born in 1705, who married a sister of Benjamin Franklin; and great-great-grandson of John Cole, Sr., who was born in England in 1670. The family is noted for its longevity. Thomas died at the age of 92, and his wife a few weeks later, aged 90, they having been married over seventy years. Amos lived one year longer than his father, dying at the extreme age of 93. In 1850 Henry W. Cole came to Ohio, settling at Iberia, Morrow county, where he owned a large warehouse, and for several years taught theoretical and instrumental music in Iberia college. He located on a farm in Oakland county, Mich., in 1863, where he died April 6, 1872. He was a man of high culture, and contributed extensively to the county and state press, and was a vigorous opponent of slavery. In 1850 he married Mary Charlotte Osgood Gleason, who was born September 26, 1826, in Georgetown, Madison county, N. Y. She was a daughter of Rossetter Gleason, a teacher and one of the early prominent educators of Madison county. He was an able mathematician, and served for many years as county surveyor. Her mother, Mary Whitney Locke, was a direct descendant of John Locke, the English philosopher, and two sisters of her mother's father married Gen. Israel Putnam and Eli Whitney, inventor of the cotton gin.
Prof. Rossetter G. Cole was born February 5, 1866, at Clyde, Oakland county, Mich., and was the youngest of six children. He was only 6 years old when his father died, and two years later his mother moved from the farm to Ann Arbor, determined to give her children the best educational advantages, in spite of limited means. By courage, thrift and energy, she succeeded in putting all her children through the high school and her four sons through the university. Rossetter did not attend school until he was 9 years old, receiving his earliest instruction from his mother, whose skillful supervision laid the foundation for his good habits of study. He graduated from the Latin course of the Ann Arbor high school in 1884, and in the following fall entered the University of Michigan, graduating in 1888 with the degree of bachelor of philosophy. While in college, he was an enthusiastic member of the Phi Kappa Psi fraternity.
From his earliest years Professor Cole had a great love for music. He grew up in an atmosphere of it, for his brothers and sisters all played and sang well. He learned these things himself very young, and at the age of 6 composed several instrumental pieces. A fragment of one, "A Storm at Sea," still exists. Nothing was done, however, to develop this creative instinct until during his high school course, when he took lessons in harmony under Francis L. York, and in 1884 began the [Begin Page 517] study of the pipe organ with the same gentleman. While attending the university he helped organize, and was for four years director of, the university glee club, which gained a splendid reputation throughout the west and northwest.

While taking all the required work for the degree of bachelor of philosophy, he laid a broad foundation for his studies in the different branches of theoretical music and composition by electing all the courses offered under Prof. Calvin B. Cady, then professor of music in the university. For his graduating thesis he composed a logical cantata, "The Passing of Summer," which was given the honor of a public performance on the evening before commencement, with full orchestra, solos and a large chorus, the first instance of the kind in the university's history.
The year after graduating Professor Cole taught branches of English in the Ann Arbor high school, and in 1889 accepted a position as instructor in Latin and German in the Aurora, Illinois, high school. In 1890 he went to Berlin, where for two years he studied music under such masters as Heinrich van Eycken, Gustav Kogel and Wilhelm Middelschulte, now of Chicago. At the suggestion of van Eycken he took the examination for admission to the Royal Master School of Composition, the highest school of its kind in Germany, and a part of the Royal Academy of Arts. Though the number of students at any one time is limited to twenty-four, he gained entrance over many competitors, being the sixth American ever admitted. The scholarship thus won entitled him to three years of free instruction under the greatest masters, but at the end of his second year in Berlin under Max Bruch, he had to return home on account of short funds. He obtained the position of musical director at Ripon college, in Wisconsin, where he remained two years, in 1894 accepting his present position. He has done much to build up the department of music at Iowa college and it now includes six teachers and about 130 students. In addition, he has organized and conducted a college glee club of eighteen voices and an orchestra of thirty pieces. These organizations have won much applause in their annual tours.
In 1894 Professor Cole became a member of the New York Manuscript society, an organization of composers, aiming toward the advancement of American music, in whose public concerts his compositions are frequently heard. For two years he has been honorary corresponding secretary from Iowa. At the St. Louis meeting of the music teachers' national association, in July, 1895, he read a paper on " The Relation of Music to Education," and at the New York meeting in June, 1897, a paper of his was read on "The Best College Treatment of Harmony." He was chosen vice-president of the association for Iowa in February, 1897. He has contributed to various periodicals, and his many musical compositions have been accepted by leading publishers. In 1893 he was commissioned by Mr. William L. Tomlins to write five children's songs for the Worlds' fair children's chorus of 1,200 voices. In December, 1897, he was elected to active membership in the Manuscript society of Chicago.

The following is a list of his published works up to January 1, 1898:

Persian Serenade (Brainards' Sons), 1888.

Two Novellettes for piano, in G flat and A minor. Opus 1 (Clayton F. Summy), 1895.

Four Songs: " Is My Lover on the Sea," " Love ls a Bird," " Outre Mer," and "The Wreath You Wove." Opus 2 (Clayton F. Summy), 1895.

Polly, My Sweetheart (Clayton F. Summy), 1895.

Three compositions for piano: Preludium, Inter- mezzoand Meditation. Opus 3 (Arthur P.Schmidt), 1895.

Marche Celeste for Organ. Opus 6, in Volume IV of " Vox Organ!" (J. B. Millet Co.), 1896.

Barcarolle for Piano. Opus 4 (Pianist Pub. Co.), 1897.

Adante Religiose for Organ. Op. 10 (Pianist Pub. Co.), 1897.

Eight Children's Songs. Op. 7 (Novello, Ewer & Co.), 1897.

Four Songs: "Longing," " Auf Wiedersehen," "A Kiss and a Tear," and " When Love is in her Eyes." Op. 12 (Ditson Co.), 1897.

Saviour, Like a Shepherd Lead Us, for contralto (Ditson Co.), 1897.
Among his larger unpublished works are a sonata for piano and violin, which has been performed several times in New York city, Chicago and Detroit, a romanza for violin, a passacaglia for two pianos, festival march for two pianos, a suite for orchestra, besides many compositions for piano, voice and organ.
The professor was married August 6, 1896, at Ann Arbor, to Miss Fannie Louise Gwinner, who had been associated with him in musical work in Ripon college and later in Iowa college. She is a gifted musician, and has gained much praise as the translator of Marx's " Introduction to the Interpretation of Beethoven."

NOTE: This man appears on the 1870 Census for Highland Township, Oakland County, Michigan, page 254, as "Rosita G. Cole," age 4, living with his parents, Henry W. Cole, age 50, and Mary C. Cole, age 43. Other references give the spelling of his first name as "Rossiter" and "Rossitter."
Despite the same last name, there is no known relationship between this family and that of Orin and Tamir Cole, who settled in Section 6 of Highland Township in 1836-37. Information posted to Ancestry.com indicates Orin Cole descends from a John Cole, b. 1639 at Northamptonshire, England; d. 1689 at Farmington, Connecticut. In contrast, the account above says Rossetter/Rossiter/Rossitter G. Cole descends from a John Cole b. 1670, while information posted to Ancestry.com says his ancestor was one Henry Cole, born 1627 in Essex, England; d. 1676 at Wallingford, Connecticut.