The Highland Township Historical Society
Highland, Oakland County, Michigan
BACK TO THE BIOGRAPHIES MAIN PAGE
DUNHAM, H. MONROE AND DUNHAM, HON. MAJOR L.
Ernest B. Fisher, Editor, Grand Rapids And Kent County, Michigan,
Robert O. Law Company, Chicago (1918), Vol. II, pp. 100-102

H. Monroe Dunham - As compared with many of the biographies of men in this work who have, in the legal profession, attained eminence and secured for themselves high reputations, as well as material prosperity, H. Monroe Dunham is but a beginner in the field at Grand Rapids. Yet of none of the younger generation can it be said that the foundation for whatever success, popularity or honor the future has in store, has been more firmly, perseveringly or with greater wisdom laid than in his case. Mr. Dunham was born at Cadil-[Begin Page 101]lac, Wexford county, Michigan, March 26, 1885, a son of Hon. Major L. and Sophia (Heimes) Dunham. Judge Major L. Dunham was born, March 19, 1850, in Oakland county, Michigan, a son of John and Mary A. (McDermott) Dunham. He attended the public schools of Highland and studied law in the office of G. H. Beardsley, and, being admitted to the bar in October, 1875, was for four years prosecuting attorney of Ontonagon county and for three years city attorney of Cadillac. He was in partnership with his brother, H. M. Dunham, until 1887, in which year he came to Grand Rapids, and here, in June, 1907, formed a law association with his son, H. Monroe, which continued until the elder man was elevated to the bench, in May, 1914. Judge Dunham was married, Oct. 16, 1875, to Sophia Heimes, and they have two children: Gertrude, who is the wife of T. H. Camp, of San Francisco, Cal., and H. Monroe. H. Monroe Dunham was two years of age when brought to Grand Rapids and here attended the graded and high school, graduating in the latter with the class of 1903. The two years that followed were spent at the University of Chicago, and for three years he attended Northwestern University, at Evanston, Ill., being graduated in the law department in 1908. He had been admitted to the bar, April 17, 1907, and in June of that year commenced practice with his father, his cousin, John M. Dunham, later being admitted to the firm. Since May, 1914, Mr. Dunham has practiced alone. He has already a large clientele and a very enviable reputation as a successful lawyer, the first attributable to the fact that he possesses the faculty of making and keeping friends, his life being ordered and governed by those principles which men recognize as sound, just and right, and the second to his natural ability, enabling him to quickly grasp his subject, apply the points of law applicable to his case with a flow of eloquence, a conviction of manner and soundness of argument which usually results in a verdict in his favor. Mr. Dunham is a member of the Grand Rapids Bar Association and the Michigan State Bar Association, belongs to York Lodge of Masons and to the Elks, and holds membership in the Highlands Golf and Peninsular clubs. He was united in marriage, Sept. 23, 1908, with Miss Daisy, daughter of Charles W. and Marian (Mosher) Findlater, of Detroit, Mich. They have two children: Dorothy E. and Harrison M.


Hon. Major L. Dunham was elected a judge of the Superior court of Kent county in 1915. During forty years previous to that [Begin Page 102]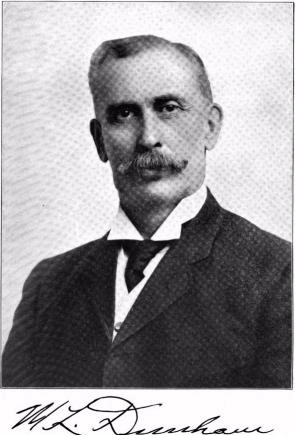 he had been engaged in the practice of law. For more than four decades it has been his business to discern the actions and purposes of men, and it is generally recognized by practitioners and litigants that no one on the Grand Rapids bench is better informed on criminal procedure or inspires greater confidence in the prompt and impartial administration of justice than he. Judge Dunham was born at Highland, Oakland county, Michigan, March 19, 1850, a son of John and Mary (Lockwood) Dunham. His parents were farming people of Oakland county and passed the last years of their lives at Alma, where both died. He was reared on the homestead farm and secured a good education in his youth, attending the county schools in the vicinity of his home, the high schools at Hartland and Howell, Michigan, and the seminary at Fenton, Mich., where he remained one and one-half years. After leaving the latter institution, he adopted the vocation of school teacher as a medium through which to make a living while he was preparing himself for the law, his chosen profession. He found a number of obstacles in his path and the time passed slowly and dis- couragingly, yet not once in the thirteen years did he falter in his purpose, and his perseverence and patient effort were finally rewarded, for, after he had served for three years as principal of the schools at Greenland, in Ontonagon county, he was admitted to the bar there in October, 1875. He was almost immediately appointed prosecuting attorney of the county, where the people had come to have confidence in the young lawyer's ability and integrity, and he continued to hold that office for a period of eight years, during which he established an excellent record. He then resigned and went to Cadillac, but not until he had had some experience in the field of journalism, having founded the Ontonagon Herald, a newspaper which he published until he left. At Cadillac he was engaged in practice in association with his brother for six years, during three years of which time he also served as city attorney, but in December, 1887, sold his practice at that place and came to Grand Rapids. Here he formed a partnership with Godwin & Adsit, with whom he was associated for two years, and then opened a law office of his own. He continued in the enjoyment of a constantly growing practice until April 12, 1915, when he was elevated to the Superior bench by the vote of the people. With all his years of experience with the delinquent element, of human society, Judge Dunham, while his insight of the faults and guile of mankind has been sharpened, has preserved and constantly manifests a kindliness and sympathy in his dealings with litigants that make him one of the most esteemed judges in Kent county. His unfailing common sense preserves him from the pedantry of law, and having been a close and thorough student under the impetus of his own determination, he has become fully and practically equipped to meet any emergency within the scope of his judicial duties. He holds membership in the Kent County Bar association and the Michigan State Bar association, and is a Mason and an Elk. With his family, he belongs to the Presbyterian church. Judge Dunham was married, Oct. 16, 1875, to Miss Sophie Heimes, daughter of August Heimes, of Greenland, Mich., and of this union there have been born two children: Gertrude, wife of Talcott H. Camp, of San Francisco, Cal., and H. Monroe, an attorney-at-law in Grand Rapids.