The Highland Township Historical Society
Highland, Oakland County, Michigan
Original Highland Township Landowner
Charles H. Adams
SW 1/4 of SE 1/4 of Section 27 NW 1/4 of NE 1/4 of Section 34
Charles H. Adams was born in 1850, the son of Aaron and Hannah (Derrick) Adams. He married Emily Frances Waterbury, born August 31, 1851, the daughter of Isaac and Charlotte (Kelsey) Waterbury. The family appear on the 1880, 1900, 1910 and 1920 Federal Censuses for Highland Township.
In 1871, at age 21, Adams became the first railroad station agent at Highland Station. In 1886 he purchased the former Peter McPherson property west of Lower Pettibone Lake, consisting of the S 1/2 of the SW 1/4 of Section 27. Shortly after this purchase, however, he was suddenly and arbitrarily transferred by the railroad to another station in Freeland, Michigan; a decision which raised considerable local ire, See: Clara Mae Beach, Our Highland Heritage, p. 42. For the next ten years the family resided elsewhere, but maintained close contact with relatives and friends in Highland. In July, 1897, Adams returned to Highland and thereafter worked as a "relief agent," filling in for other station agents who were ill or on vacation. He also raised nursery stock on his farm, served as Highland justice of the peace, and was employed as local agent for various insurance companies.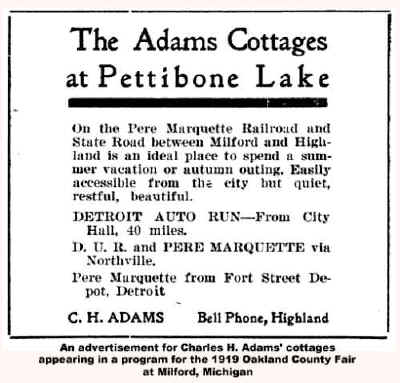 In the early 1900's Adams began to capitalize on the recreational value of his land along the west shore of Lower Pettibone Lake. He opened the Adams Grove campground and, in 1909, built the first of several lakeside cottages which he rented during the summer. This growing resort business no doubt accounts for his purchase, in 1903, of both the SW 1/4 of the SE 1/4 of Section 27 and the NW 1/4 of the NE 1/4 of Section 34. As a look at a Highland Township map will disclose, both parcels are more or less submerged beneath the waters of Lower Pettibone Lake. Since the value of his campground depended on uncontested lake access, however, Adams probably felt it prudent to secure title to the property.
First Land Owners of Oakland County includes some cryptic notes relating to these purchases. Adams' residence is given as "Kenton [OH]" even though his patent clearly declares him to be "of Oakland County, Michigan." There is likewise some confusion as to the date of purchase. For example, the parcel in Section 27 is said to have been purchased July 3, 1903, while that in Section 34 bears a date of July 13, 1903. Last but not least, the parcel in Section 27 includes the note "Assigned to Peter McPherson" even though the patent makes no reference to any such assignment. It seems more likely that, as purchaser of the adjoining Peter McPherson farm, Adams was himself the assignee or otherwise successor to any rights - including pre-emption rights - which McPherson might have had as the result of "squatting" on or otherwise making use of the land without actually buying it.
Charles H. Adams died in 1923, followed by his wife, Emily (Waterbury) Adams, on December 22, 1930. Both are buried in Highland Cemetery.