The Highland Township Historical Society
Highland, Oakland County, Michigan
Original Highland Township Landowner
Squire Washington Rowe
SW 1/4 of NE 1/4 of Section 32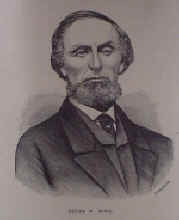 Squire Washington Rowe was born June 1, 1815, at Camillus, Onondaga County, New York, the son of Daniel and Mary (Crossman) Row/Roe. He moved with his family to Parma, Monroe County, New York, where he married Dolly Castle on March 26, 1835. She was born March 13, 1817, at Mendon, New York, the daughter of Samuel and Rachel (Brown) Castle
Within weeks after the wedding the couple joined Daniel Roe's move to Michigan. One source relates that Squire, his wife and mother, travelled by boat from Buffalo to Detroit, while his father and brother, Nelson Roe, drove a wagon with their household goods across Canada. The family arrived in Highland Township in May, 1835, where Squire W. Rowe made purchased of 40 acres in Section 32. The portrait at left is from a biography of Squire W. Rowe found in Samuel Durant, History of Oakland County, Michigan (1877).
Squire W. Rowe quickly grew to prominence in Highland, where he served multiple terms as township supervisor. During the Civil War he raised a company of troops for the 18th Michigan Regiment and, as supervisor, acted as relief agent for war widows and orphans. In 1864 he was elected to the Michigan legislature on the Republican ticket and served during the session of 1865. He held that office at the time of his death on November 19, 1866. For more on his life and career, see the biographies here and here. Dolly (Castle) Rowe, widow of Squire W. Rowe, survived her husband by over forty years; passing away on March 15, 1909, at age 92 years, 2 days.
First Land Owners of Oakland County gives his first name as either "Syrus" or "Lyrus;" both obvious misreadings of "Squire." Unlike his parents, Squire W. Rowe also used the "Rowe" spelling of his surname. One generalogy of the family suggests younger members of the family adopted this spelling in the years following the War of 1812 in the belief it was "less British."