The Highland Township Historical Society
Highland, Oakland County, Michigan
HIGHLAND TOWNSHIP: OATHS OF OFFICE
1919 To 1938
Introduction
The following data is abstracted from a leather-bound book identified on its spine as Bonds And Oaths: Highland Township. It consists of approximately 200 pages of preprinted forms and includes sections for "Highway Commissioner's Bond," "Bond of Overseer of Highways," "Constable's Bond," "Oaths of Office," "Township Treasurer's Bond," and "Clerk's Bond." The only forms actually filled in, however, are those for "Oaths of Office" (pages 113-176) and "Township Treasurer's Bond" (pages 177-196). All the other preprinted forms are blank. Only the "Oaths of Office" have been abstracted below. While interesting, the "Township Treasurer's Bonds" contain little additional information beyond the amount of bond and the names of the sureties.
The oaths of the Supervisor, Treasurer, etc. were typically administered by the township Clerk. The Clerk's own oath, however, was usually administered by some other officer such as the Supervisor or Justice of the Peace. On April 5, 1927, however, Clerk Fred B. Hitchcock administered his oath of office to himself!
A scan of the first "Oath of Office" form appears below, to provide an idea of its appearance and language. There are four such forms to each page. If less than four entries are abstracted for a given page in the table below, the remaining forms on that page are blank, not signed or marked as void.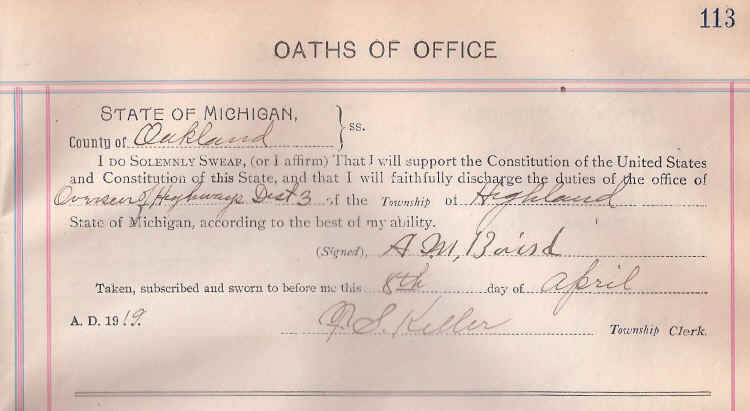 Page No.
Township Office
Person Taking Oath
(i.e. Officerholder)
Date
Township Clerk (Or Other Official) Administering The Oath

113

Overseer of Highways - District 3

A. M. Baird

April 8, 1919

F. S. Keller

113
Overseer of Highways - District 4
Mike Burns
April 10, 1919
F. S. Keller
113
Overseer of Highways - District 1
W. M. Culon(?)
April 14, 1919
F. S. Keller
113
Treasurer
Harry L. Doty
April 14, 1919
F. S. Keller
114
Commissioner of Highways
W. H. Minger
April 14, 1919
F. S. Keller
114
Supervisor
G. Ross Thompson
April 15, 1919
F. S. Keller
114
Township (Clerk)
F. S. Keller
April 15, 1919
G. Ross Thompson (Supervisor)
114
Justice of the Peace
G. H. Autens(?)
April 17, 1919
F. S. Keller
115
Board of Review
M. J. Seward
April 17, 1919
F. S. Keller
115
Overseer of Highways - District 2
L. J. Charlick
April 17, 1919
F. S. Keller
115
Supervisor
Henry W. Marshall
September 29, 1919
Frank S. Keller
115
Board of Review
John H. Feeney
April 13, 1920
F. S. Keller
116
Supervisor
Henry W. Marshall
April 12, 1920
F. S. Keller
116
Treasurer
John Atley
April 13, 1920
F. S. Keller
116
Overseer of Highways - District ?
H. E. Glancy
April 15, 1920
F. S. Keller
116
Overseer of Highways - District ?
Harry S. Beaumont
April 15, 1920
F. S. Keller
117
Highway Comm(issioner)
Walter Huff
April 15, 1920
F. S. Keller
117
Overseer of Highways - District ?
Charlie Glendening
April 15, 1920
F. S. Keller
117
Overseer of Highways - District ?
L. J. Charlick
April 15, 1920
F. S. Keller
117
Justice of the Peace
W. H. Munger
April 15, 1920
F. S. Keller
118
Clerk
Wm. Needham, Jr.
August 3, 1920
F. S. Keller
118
Health Officer
Ora Manly, M.D.
September 8, 1920
Wm. Needham, Jr.
118
Supervisor
Henry W. Marshall
April 11, 1921
Albert Gonne, J. P. (acting clerk)
118
Clerk
Wm. Needham, Jr.
April 14, 1921
Henry W. Marshall (Supervisor)
119
Treasurer
John Atley
April 8, 1921
Wm. Needham, Jr.
119
Justice of the Peace
Mark T. Cimmer
April 11, 1921
Albert Gonne, J.P (acting clerk)
119
Highway Comm(issioner)
Abbot H. Middleton
April 8, 1921
Wm. Needham, Jr.
119
Overseer of Highways - District ?
L. J. Charlick
April 9, 1921
Wm. Needham, Jr.
120
Overseer of Highways - District ?
John Lockler(?)
April 7, 19(21)
Wm. Needham, Jr.
120
Overseer of Highways - District ?
H. E. Glancy
April 6, 1921
Wm. Needham, Jr.
120
Health Officer
Ora Manly, M.D.
April 14, 1921
Wm. Needham, Jr.
121
Board of Review (to fill vacancy)
Harry L. Doty
April 7, 1921
Wm. Needham, Jr.
121
Board of Review
Mark Leonard
April 12, 1921
Wm. Needham, Jr.
121
Overseer of Highways - District ?
C. S. Treat
April 12, 1921
Wm. Needham, Jr.
122
Constable
A. C. Marcero
April 12, 1921
Wm. Needham, Jr.
123
Overseer of Highways - District 4
Fred C. Parks
April 4, 1922
Wm. Needham, Jr.
123
Treasurer
Burton F. Mills
April 4, 1922
Wm. Needham, Jr.
123
Board of Review
Wm. J. Stiles
April 4, 1922
Wm. Needham, Jr.
123
Overseer of Highways - District 3
L. C. Outh-ib(?)
April 7, 1922
Wm. Needham, Jr.
124
Overseer of Highways - District 2
L. J. Charlick
April 8, 1922
Wm. Needham, Jr.
124
Supervisor
H. W. Marshall
April 10, 1922
Wm. Needham, Jr.
124
Clerk
Wm. Needham, Jr.
April 10, 1922
H. W. Marshall (Supervisor)
124
Justice of the Peace
Albert Gonne
April 10, 1922
Wm. Needham, Jr.
125
Overseer of Highways - District 1
M. H. Predmore
April 10, 1922
Wm. Needham, Jr.
125
Highway Commissioner
A. H. Middleton
April 10, 1922
Wm. Needham, Jr.
125
Health Officer
Ora Manly
April 13, 1922
Wm. Needham, Jr.
125
Constable
John Atley
April 13, 1922
Wm. Needham, Jr.
126
Supervisor
Bert J. Wardlow
April 3, 1923
Wm. Needham, Jr.
126
Clerk
Mrs. Dollie Gonne
April 3, 1923
Wm. Needham, Jr.
126
Treasurer
Burton F. Mills
April 10, 1923
Mrs. Dollie Gonne
126
Justice of the Peace
G. H. Cuter(?)
April 10, 1923
Mrs. Dollie Gonne
127
Board of Review
Harry L. Doty
April 10, 1923
Mrs. Dollie Gonne
127
Highway Commissioner
John C. Hudson
April 4, 1923
Wm. Needham, Jr.
127
Overseer of Highways - District 1
M. W. Predmore
April 10, 1923
Mrs. Dollie Gonne
127
Overseer of Highways - District 2
W. F. Judson
April 10, 1923
Mrs. Dollie Gonne
128
Overseer of Highways - District 4
Earl VanLewin
April 3, 1923
Wm. Needham, Jr.
128
Overseer of Highways - District 3
L. C. Outh-ib(?)
April 4, 1923
Wm. Needham, Jr.
128
Constable
LeRoy Deane
April 11, 1923
Dollie Gonne
128
Health Officer
O. P. Leonard
April 11, 1923
Dollie Gonne
129
Treasurer
Persis L. Fox
April 30, 1923
Mrs. Dollie Gonne
129
Justice of the Peace
Perry A. Hewitt
May 7, 1923
Dollie Gonne
129
Overseer of Highways - District 3
J. W. Miller
April 9, 1924
Mrs. Dollie Gonne
129
Supervisor
B. J. Wardlow
April 9, 1924
Mrs. Dollie Gonne
130
Clerk
Dollie Gonne
April 9, 1924
Albert Gonne, J. P.
130
Justice of the Peace
Charles Barnett
April 10, 1924
Mrs. Dollie Gonne
130
Overseer of Highways - District 1
Chas. W. Porteous
April 12, 1924
Mrs. Dollie Gonne
130
Treasurer
Katherine K. Field
April 12, 1924
Mrs. Dollie Gonne
131
Justice of the Peace
Perry A. Hewitt
April 12, 1924
Dollie Gonne
131
Highway Commissioner
John C. Hudson
April 14, 1924
Dollie Gonne
131
Board of Review
George S. Potts
April 14, 1924
Dollie Gonne
131
Overseer of Highways - District 2
W. F. Judson
April 16, 1924
Dollie Gonne
132
Overseer of Highways - District 4
Fred H. Beaumont
April 14, 1924
Dollie Gonne
132
Health Board
O. P. Leonard
April 21, 1924
Dollie Gonne
132
Constable
Albert House
July 28, 1924
Dollie Gonne
133
Supervisor
B. J. Wardlow
April 13, 1925
Dollie Gonne
133
Clerk
Dollie Gonne
April 8, 1925
Albert Gonne, J.P.
134
Treasurer
Katherine Field
April 8, 1925
Dollie Gonne
134
Highway Commissioner
John C. Hughes
April 9, 1925
Dollie Gonne
134
Overseer of Highways - District 2
L. J. Charlick
April 9, 1925
Dollie Gonne
134
Overseer of Highways - District 1
Chas. W. Porteous
April 11, 1925
Dollie Gonne
135
Overseer of Highways - District 3
Frank Williams
April 13, 1925
Dollie Gonne
135
Overseer of Highways - District 4
Fred Beaumont
April 13, 1925
Dollie Gonne
135
Constable
Albert House
April 13, 1925
Dollie Gonne
135
Constable
LeRoy Dean
April 18, 1925
Dollie Gonne
136
Justice of the Peace
Perry A. Hewitt
April 13, 1925
Dollie Gonne
136
Justice of the Peace
Earl Barrett
April 14, 1925
Dollie Gonne
137
Board of Review
Harry L. Doty
April 13, 1925
Dollie Gonne
137
Board of Health
O. P. Leonard
April 15, 1925
Dollie Gonne
138
Supervisor
B. J. Wardlow
April 7, 1926
Fred Hitchcock
138
Clerk
Fred B. Hitchcock
April 6, 1926
Dollie Gonne
138
Treasurer
B. Franklin Leonard
April 5, 1926
Dollie Gonne
138
Highway Commissoner
John C. Hudson
April 10, 1926
Fred B. Hitchcock
139
Overseer of Highways - District 1
Harold Wardlow
April 6, 1926
Dollie Gonne
139
Overseer of Highways - District 2
L. J. Charlick
April 5, 1926
Fred B. Hitchcock
139
Overseer of Highways - District 3
C. L. Treat
April 13, 1926
Fred B. Hitchcock
139
Overseer of Highways - District 4
Fred Beaumont
April 9, 1926
Fred B. Hitchcock
140
Justice of the Peace
Albert Gonne
April 5, 1926
Dollie Gonne
140
Constable
Albert House
April 13, 1926
Fred B. Hitchcock
140
Board of Health
O. P. Leonard
April 15, 1926
Fred B. Hitchcock
141
Supervisor
B. J. Wardlow
April 6, 1927
Fred B. Hitchcock
141
Clerk
Fred B. Hitchcock
April 5, 1927
Fred B. Hitchcock
141
Treasurer
Franklin Leonard
April 12, 1927
Fred B. Hitchcock
141
Highway Commissioner
Fred Beaumont
April 9, 1927
Fred B. Hitchcock
142
Justice of the Peace
Earl C. Barrett
April 5, 1927
(not signed)
142
Health Officer
Wm. J. Stiles
April 5, 1927
Fred B. Hitchcock
142
Constable
LeRoy Dean
April 9, 1927
Fred B. Hitchcock
142
Overseer of Highways - District 3
C. L. Treat
April 7, 1927
Fred B. Hitchcock
143
Overseer of Highways - District 1
Walter Huff
April 12, 1927
Fred B. Hitchcock
143
Overseer of Highways - District 2
L. J. Charlick
April 12, 1927
Fred B. Hitchcock
143
Constable
Albert House
April 7, 1927
Fred B. Hitchcock
143
Overseer of Highways - District 4
Lewis Beaumont
April 5, 1927
Fred B. Hitchcock
144
Board of Review
H. L. Doty
April 12, 1927
Fred B. Hitchcock
144
Clerk
R. Morris Peirce
May 26, 1927
F. B. Hitchcock
144
Clerk
Sidney W. Hulbert
April 4, 1928
R. M. Peirce
144
Constable No. 4
R. M. Peirce
April 4, 19(28)
Sidney W. Hulbert
145
Overseer of Highways - District 2
L. J. Charlick
April 5, 1928
Sidney W. Hulbert
145
Deputy Clerk
Martha Hulbert
April 5, 1928
Sidney W. Hulbert
145
Overseer of Highways - District 4
Fred Beaumont
April 5, 1928
Sidney W. Hulbert
145
Treasurer
Katherine Field
April 6, 1928
Sidney W. Hulbert
146
Highway Commissioner
John C. Hudson
April 7, 1928
Sidney W. Hulbert
146
Overseer of Highways - District 3
Frank Williams
April 7, 1928
S. W. Hulbert
146
Supervisor
B. J. Wardlow
April 7, 1928
Sidney W. Hulbert
146
Justice of the Peace
Charles Barnett
April 7, 1928
S. W. Hulbert
147
Health Officer
Wm. J. Stiles
April 9, 1928
S. W. Hulbert
147
Constable
LeRoy Dean
April 9, 1928
S. W. Hulbert
147
Overseer of Highways - District 1
Franklin Leonard
April 10, 1928
S. W. Hulbert
147
Supervisor
B. J. Wardlow
April 8, 1929
S. W. Hulbert
148
Clerk
S. W. Hulbert
April 8, 1929
B. J. Wardlow (Supervisor)
148
Treasurer
Katherine Field
April 8, 1929
S. W. Hulbert
148
Board of Review
Harry L. Doty
April 8, 1929
S. W. Hulbert
148
Overseer of Highways - District 1
B. F. Leonard
April 9, 1929
S. W. Hulbert
149
Justice of the Peace
Perry A. Hewitt
April 6, 1929
S. W. Hulbert
149
Highway Commissioner
John C. Hudson
April 5, 1929
S. W. Hulbert
149
Overseer of Highways - District 1 [actually 4]
Fred Beaumont
April 5, 1929
S. W. Hulbert
149
Constable
Glen E. Tyler
April 2, 1929
S. W. Hulbert
150
Overseer of Highways - District 2
Peter Cole
April 6, 1929
S. W. Hulbert
150
Deputy Clerk
Martha Hulbert
April 10, 1929
S. W. Hulbert
150
Overseer of Highways - District 3
Frank Williams
April 11, 1929
S. W. Hulbert
151
Supervisor
B. J. Wardlow
April 10, 1930
S. W. Hulbert
151
Clerk
S. W. Hulbert
April 15, 1930
B. J. Wardlow (Supervisor)
151
Deputy Clerk
Martha Hulbert
April 15, 1930
S. W. Hulbert
151
Treasurer
Mrs. Roy Skinner
April 12, 1930
S. W. Hulbert
152
Highway Commissioner
Fred Beaumont
April 10, 1930
S. W. Hulbert
152
Board of Review
William Judson
April 14, 1930
S. W. Hulbert
152
Overseer of Highways - District ? [prob. 3]
Frank Williams
April 9, 1930
S. W. Hulbert
152
Overseer of Highways - District 2
Peter Cole
April 14, 1930
S. W. Hulbert
153
Justice of the Peace
J. H. Lemmon
April 15, 1930
S. W. Hulbert
153
Overseer of Highways - District 4
Geo. M. Wardlow
April 15, 1930
S. W. Hulbert
153
Overseer of Highways - District 1
Don M. Clark
April 16, 1930
S. W. Hulbert
154
Supervisor
B. J. Wardlow
April 8, 1931
S. W. Hulbert
154
Clerk
S. W. Hulbert
[No month/date] 1931
B. J. Wardlow (Supervisor)
154
Deputy Clerk
Martha Hulbert
April 9, 1931
S. W. Hulbert
154
Treasurer
Lillian Skinner
April 15, 1931
S. W. Hulbert
155
Highway Commissioner
Fred Beaumont
April 11, 1933
S. W. Hulbert
155
Overseer of Highways - District ?
Willard Charlick
April 7, 1933
S. W. Hulbert
155
Justice of the Peace
Earl Barrett
April 13, 1931
S. W. Hulbert
155
Constable
Chas B. White
April 9, 1931
S. W. Hulbert
156
Constable
Harold Grimshaw
April 9, 1931
S. W. Hulbert
156
Constable
Glen E. Tyler
April 16, 1931
S. W. Hulbert
156
Board of Review
M. J. Leonard
April 16, 1931
S. W. Hulbert
157
Supervisor
Bert J. Wardlow
April 7, 1932
S. W. Hulbert
157
Clerk
S. W. Hulbert
April 7, 1932
Bert J. Wardlow (Supervisor)
157
Deputy Clerk
Martha Hulbert
April 7, 1932
S. W. Hulbert
157
Highway Commissioner
Fred Beaumont
April 5, 1932
S. W. Hulbert
158
Justice of the Peace
Frances Squire
April 14, 1932
S. W. Hulbert
158
Constable
Lewis W. Prince
April 11, 1932
S. W. Hulbert
158
Constable
Glen E. Tyler
April 11, 1932
S. W. Hulbert
158
Justice of the Peace
Richard H. Huff
April 12, 1932
S. W. Hulbert
159
Board of Review
William F. Judson
April 6, 1932
S. W. Hulbert
159
Health Officer
Wm. J. Stiles
April 12, 1932
S. W. Hulbert
159
Constable
Jay L. Allyone(?)
July 23, 1932
S. W. Hulbert
160
Highway Commissioner
Henry Jones
April 5, 1932 (Sic. Probably 1933)
S. W. Hulbert
160
Supervisor
Leo J. Kelley
April 5, 1933
S. W. Hulbert
160
Clerk
S. W. Hulbert
April 5, 1933
Leo J. Kelley (Supervisor)
160
Deputy Clerk
Martha Hulbert
April 4, 1933
S. W. Hulbert
161
Treasurer
Frances Squire
April 10, 1933
S. W. Hulbert
161
Highway Commissioner
Clare Baker
April 4, 1933
S. W. Hulbert
161
Overseer of Highways - District 3
Henry R. Jones
April 4, 1933
S. W. Hulbert
161
Constable
Glen E. Tyler
April 6, 1933
S. W. Hulbert
162
Board of Review
Geo. W. Keller
April 6, 1933
S. W. Hulbert
162
Constable
Harold Wardlow
April 8, 1933
S. W. Hulbert
162
Justice of the Peace
Fred A. Culver
April 8, 1933
S. W. Hulbert
162
Constable
A. M. Heddle
April 11, 1933
S. W. Hulbert
163
Constable
Lewis M. Prince
April 13, 1933
S. W. Hulbert
163
Supervisor
Leo J. Kelley
April 4, 1934
S. W. Hulbert
163
Clerk
S. W. Hulbert
(No month/date) 1934
Leo J. Kelley (Supervisor)
163
Treasurer
Frances Squire
April 9, 1934
S. W. Hulbert
164
"Highland" (probably Highway Commissioner)
Clare Baker
April 4, 1934
S. W. Hulbert
164
Overseer of Highways - District ?
Edgar D. Metting
April 7, 1934
S. W. Hulbert
164
Board of Review
Geo. W. Smalley
April 9, 1934
S. W. Hulbert
164
Justice of the Peace
Elmer E. Mills
April 5, 1934
S. W. Hulbert
165
Constable
Lamar Bruno
April 4, 1934
S. W. Hulbert
165
Constable
Loren Bruno
April 6, 1934
S. W. Hulbert
165
Constable
Otto Engelman
April 6, 1934
S. W. Hulbert
165
Constable
Bert Maloney
May 7, 1934
S. W. Hulbert
166
Deputy Clerk
Martha Hulbert
April 5, 1934
S. W. Hulbert
166
Health Officer
Wm. J. Stiles
April 9, 1934
S. W. Hulbert
166
Supervisor
Leo J. Kelley
April 4, 1935
S. W. Hulbert
166
Clerk
Sidney W. Hulbert
April 4, 1935
Form marked "cancelled"
167
Clerk
Sidney W. Hulbert
April 4, 1935
Leo J. Kelley (Supervisor)
167
Deputy Clerk
Martha Hulbert
April 4, 1935
Sidney W. Hulbert
167
Treasurer
Jno. B. Oakly, Sr.
April 3, 1935
Sidney W. Hulbert
167
Board of Review
Walter B. St. John
April 4, 1935
Sidney W. Hulbert
168
Constable
Harold Wardlow
April 4, 1935
Sidney W. Hulbert
168
Highway Commissioner
Clare Baker
April 6, 1935
Sidney W. Hulbert
168
Health Officer
Wm. J. Stiles
April 10, 1935
Sidney W. Hulbert
168
Justice of the Peace
Earl C. Barrett
April 10, 1935
Sidney W. Hulbert
169
Constable
Loren Bruno
May 13, 1935
Sidney W. Hulbert
169
Constable
Lamar Bruno
May 18, 1935
Sidney W. Hulbert
169
Constable
Bert Maloney
May 23, 1935
Sidney W. Hulbert
170
Supervisor
Leo J. Kelley
April 8, 1936
Sidney W. Hulbert
170
Clerk
Sidney W. Hulbert
(No month/date) 1936
Leo J. Kelley (Supervisor)
170
Deputy Clerk
Martha Hulbert
April 8, 1936
S. W. Hulbert
170
Treasurer
Jno. B. Oakley, Sr.
April 8, 1936
S. W. Hulbert
171
Highway Commissioner
Fred H. Beaumont
April 9, 1936
S. W. Hulbert
171
Board of Review
Clive G. Stiff
April 11, 1936
S. W. Hulbert
171
Justice of the Peace
Geo. W. Keller
April 10, 1936
S. W. Hulbert
172
Constable
Harold Wardlow
April 7, 1936
S. W. Hulbert
172
Constable
Andrew Heddly
April 8, 1936
S. W. Hulbert
172
Constable
Homer Wardlow
April 16, 1936
S. W. Hulbert
173
Supervisor
Leo J. Kelley
April 7, 1937
S. W. Hulbert
173
Clerk
Sidney W. Hulbert
April 7, 1937
Leo J. Kelley (Supervisor)
173
Deputy Clerk
Martha Hulbert
April 7, 1937
S. W. Hulbert
173
Treasurer
Asa R. Smith
April 7, 1937
S. W. Hulbert
174
Highway Commissioner
Fred Beaumont
April 8, 1937
S. W. Hulbert
174
Overseer of Highways, District ?
Edgar I. Metting(?)
April 15, 1937
S. W. Hulbert
174
Board of Review
Walter B. St. John
(No month/date) 1937
S. W. Hulbert
174
Justice of the Peace
Fred A. Culver
April 9, 1937
S. W. Hulbert
175
Constable
Harold Wardlow
April 10, 1937
S. W. Hulbert
175
Deputy Treasurer
Jeanie A. Smith
December 23, 1937
S. W. Hulbert
175
Supervisor
Leo J. Kelley
April 8, 1938
S. W. Hulbert
176
Clerk
S. W. Hulbert
April 8, 1938
Leo J. Kelley (Supervisor)
176
Treasurer
Asa R. Smith
April 9, 1938
S. W. Hulbert
176
Deputy Treasurer
Jeanie A. Smith
June 1, 1938
S. W. Hulbert
176
Highway Commissioner
Clare Baker
April 7, 1938
S. W. Hulbert