The Highland Township Historical Society
Highland, Oakland County, Michigan
Original Highland Township Landowner
Jared Wilson (Willson)
W 1/2 of SE 1/4 of Section 34 E 1/2 of SW 1/4 of Section 34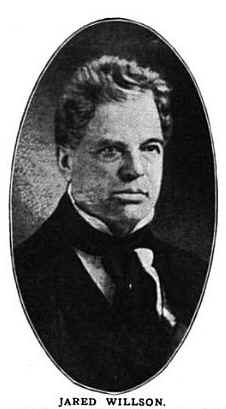 Jared Willson was born May 23, 1786, at Stockbridge, Massachusetts. He graduated from the University of Vermont and thereafter settled in Canandaigua, Ontario County, New York in 1811. He studied law under John C. Spencer, but his legal career was interrupted by service as a lieutenant in the New York Militia during the War of 1812. He was taken prisoner at the Battle of Queenstown and later wrote an account of his experiences. Entitled "A Rifleman at Queeenston," it was published in Buffalo Historical Society Publications 9 (1906) and has been extensively cited in several histories of the War of 1812.
Following his service Jared Willson resumed the practice of law, becoming partner with Albert Lester in a firm that was reportedly "one of the strongest in the county," George S. Conover, Ed., History of Ontario County, New York, D. Mason & Co., Syracuse (1893), Page 170. It is during this period both men jointly purchased land in Section 34 of Highland Township. They also bought property - together and separately - in Shiawassee, Lapeer, Ingham and Branch counties. Note that while his patents give his surname as "Wilson," the New York references all use the spelling "Willson" with a second "L."
There is no evidence Jared Willson ever resided on his purchase Highland Township. He instead remained in Ontario County, New York; dying at Canandaigua on April 8, 1851.